Virushka : Virat And Anushka Marriage Functions
Virushka Marriage Function
Virat Kohli married Bollywood actress Anushka Sharma, "Virushka" in Italy on December 12, 2017. The couple revealed the news on social media and wrote, "Today we have promised each other to be bound in love for ever. The marriage function was much more than decorations, fineries, entertainment, wedding planners, mehendiwalis and flowers. The reception was hosted in new delhi for their relatives on 21st December and  for industry friends and cricketers in Mumbai on 26th December.
The lovely couple have flied to South Africa on December 27 for their honeymoon after hosting a star reception on December 26 in Mumbai. After the official confirmation, the fan pages of both Virat and Anushka were viral all over the world. before taking the 'saat pheras' , the coupled exchanged the rings and took vows of standing beside each other in all good and bad of life. For the further information regarding visrushka marriage function click on the given link www.virushkamarriagefunction.
Virushka haldi and mehendi ceremony Functions
There were several moments from Virushka's Haldi and Mehendi ceremony and marraige function. Just like any other Indian wedding, Virat and Anushka's marriage function were performed according to Hindu rules. The bride and the groom made some of the best memories of their lifetime in the foreign. Virat's Haldi ceremony had him blushing but the cricket star didn't miss the fun. And later he joined his love for the mehendi ceremony as she applied Mehendi on her hands made all fall in love with their love story. Anushka Sharma and Virat Kohli were dating for several years . They often post messages to each other on social media and are pictured attending social events together.
Virushka Grand Reception Ceremony
Star cricketer Virat Kohli and Bollywood actor Anushka Sharma first reception ceremony was held on New Delhi. Prime Minister Narendra Modi and Finance Minister Arun Jaitley were among the high-profile guests present over there participating in the function.
The reception party, which was graced by around 500 guests, especially from Virat's side considering that Delhi is his hometown. reception was mainly attended by the family members and close relatives and friends of the couple amid high security. the second reception was held  in Mumbai, where various cricketers and members of the film were present.
Virat and Anushka Honeymoon tour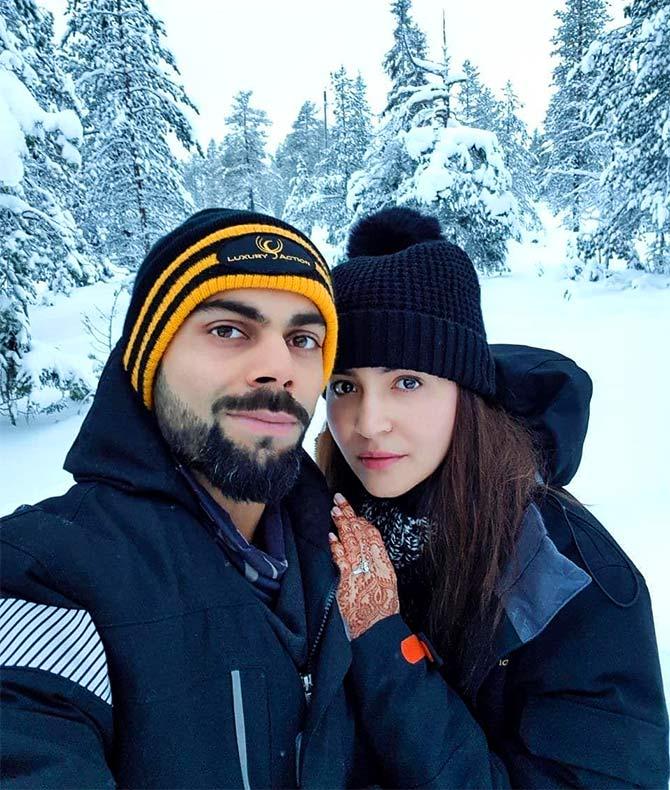 After the marriage functions, they both have spend their honeymoon in Finlands and spend their nights watching the northern lights.Their honeymoon was organised by Luxury Action, which specialises in private and luxury travel, tailor-made experiences in the Arctic and Nordic regions. they were also in the Rovaniemi,on the artic circle which is the hometown of the santa claus. They both were in the New Year together in South Africa with a week-long honeymoon in and around Cape Town. After this kohli was the part of the test match series against south africa and Anushka flied back to India to begin shooting for her next film with Shah Rukh Khan, followed by another film with Varun Dhawan in February 2018. For the further details visit on the website wwwcoolviratkohli.com.